Jimmie Allen Proposes To Girlfriend Alexis Gale On A Trip To Disney World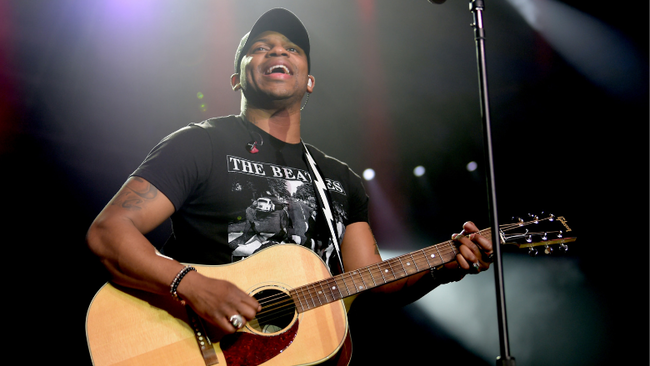 Jimmie Allen is officially off the market!
Monday night (July 15) while visiting Disney World in Florida, Allen, proposed to girlfriend, Alexis Gale. The "Make Me Want To" singer is a big Disney fan who, according to People, has visited Disney World 49 times. Being that big of a fan, it's only right that he proposes there as well.
After a day of exploration, Allen dropped to his knee to pop the big question right in front of Cinderella's castle at Magic Kingdom. Joining the couple to celebrate the special moment was both of their parents, their sisters, his cousin and a friend. What an exciting moment for the whole family!
The couple, both from Milton, Delaware, started dating this spring after meeting through Allen's cousin's wife. "With Alexis being from my hometown, it is like always having a piece of home with me," Allen shares with People. "We had an immediate connection, it was like we'd always known each other."
Allen continues, sharing that his love for Gale grew even more when he saw the way she interacted with his 5-year-old son, Aadyn. Seems like the two couldn't be happier.
"Her smile melts me, her pure heart challenges me to love better, the way she motivates and supports me is unlike anything I've ever seen, the way she loves me and my son is unlike anything I've ever experienced," Allen adds. "It feels incredible to find the type of love I've been writing songs about all these years!"
I'm sure love songs like "Make Me Want To," off his Mercury Lane album, hit home a little more now than ever before. I wouldn't be surprised if his next album featured a new love song or two stemming off this special time in his life.
Check out a few adorable photos from the engagement below in an Instagram posted by Allen today.