Video Insider: Blake Shelton's 'Turnin Me On'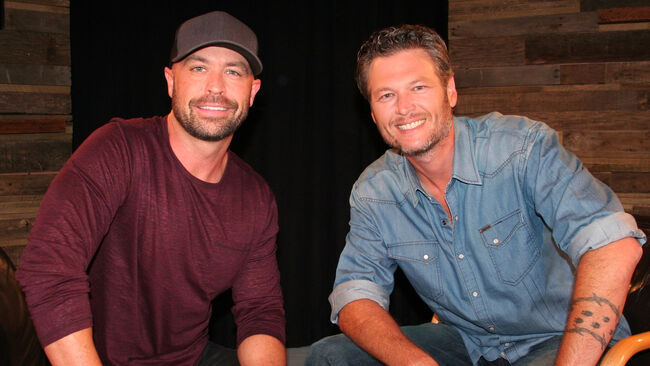 Veteran Director Adam Rothlein is responsible for some of Blake Shelton's most entertaining music videos. "I'll Name The Dogs" swept 'Video of the Year' during the 2018 CMT Music Awards.
This week, Blake premiered 'Turnin' Me On' on CMT. The stripped down performance invites fans to see the serious side of Blake and get into their feelings with a deeply personal track that he wrote for his 'Revlon-red' seductive girlfriend, Gwen Stefani.
So, what's it like to create a music video with the country superstar? Cody Alan connected with Adam Rothlein for the inside scope and invites you to peek behind the curtain.
Cody: You've worked with Blake on several videos. Videos are often really personal, this one especially. Does having that relationship make the process easier or do you feel like you have to continuously raise the bar?
Adam: I feel this is almost a trick question. It's easier in some respects but always makes me feel like it's a must to raise the bar. How can I get Blake in and out of the shoot as fast as possible yet create the idea and take it to a different level? Shane Tarleton [SVP Artist Development, Warner Music Nashville] has always been a great creative partner through the process too. He's a genius and the three of us have worked together for a long time and make a great team.
Cody: What were your thoughts when you initially heard this track? Did you immediately have a vision for this video?
Adam: Usually I'm given a base idea by the label and management and then expand from there, adding my own twist or take to the initial thoughts on that were given.
Cody: You and Blake have created some great videos. What's been your favorite moment?
Adam: 'I'll Name the Dogs.' Shane and Blake had an idea of Blake playing a wedding but I didn't want it to be a typical take on that. My sister, Jen, is also my producer. She and I have always worked really well together and she is incredibly creative. She had the idea that this was a surprise wedding of the older couple. When you have the right team in place, its magic. It was a fun one for sure!
Cody: In my experience, Blake is a riot. What's your favorite "Blake-ism"?
Adam: Pretty much everything about working with Blake is great. He's a genuinely wonderful person and a true pleasure to be around. It's always fun joking around with him. Jen produces on all of the videos too. He's known us for years at this point so the comfort level on both sides is great....I mean, I really hope he feels the same way.
Cody: If this video was ever re-envisioned into a pop-up video, what's a fun fact that you would hope would be included?
Adam: I think the fun fact for this one would be how we got to shoot this at Henson studios and tour the facilities and pretty much be in the space that Charlie Chaplin created. As a director, I've always looked up to Chaplin as an influencer in my work and approach. What a magic moment to shoot something like this in a spot where Charlie used to create. It's mind-blowing.
RELATED: Blake Shelton Serenades Gwen Stefani With 'Turnin' Me On'
Still want more information about Blake Shelton's video? We got you covered, click HERE.
Find Cody on Instagram + Twitter using @CodyAlan. Listen to him On-Air and OnDemand at www.cmtcody.com.