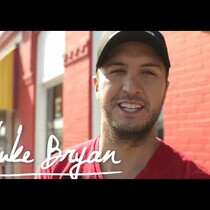 Posted April 5th, 2014 @ 7:04am
Luke Bryan opens up to Parademagazine about his butt-shaking and the deaths of his brother and sister.
He says there's a reason behind all that shaking. "Look, when you roll into a college bar bringing country music, you better have something else going on. I'll shake it all night long."
And he's philosophical about his brother Chris's death in 1996 from a car accident. "You never quite get over it. But I do believe that when my brother was born, God allocated him 26 years. It was his time." And when his sister Kelly died suddenly in 2007, he relied on his faith to see him through. "It was a sense of calm -- not what I expected."
Luke co-hosts theACM Awards withBlake Shelton tomorrow night. The show will air live from Las Vegas at 8 p.m. [ET] on CBS.